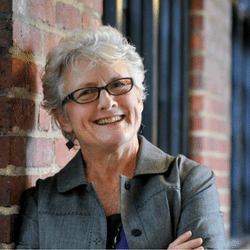 Eleanor is drawn by her deep roots in the South to write stories that have been hidden or forgotten. She captures stories of family members on the edge of traumatic historical events that portend personal change and social turmoil.
On her way to her first job after college in 1968—teaching English in Japan—Eleanor heard for the first time about her father's cousin (Grace Divine Liu) who had married "a Chinaman" and gone to China in 1934. No one knew if she was still alive, but a seed was planted in Eleanor's heart to one day find out.
Eleanor lived in Japan for two years, taught English and served as guide in the US pavilion at the World's Fair in Osaka, Expo '70. When she left Japan, she went home the long way through India, traveling around the world by herself before she was 25.
These early experiences changed her world view, and later she worked to make more international opportunities in her home town through Children's International Summer Villages, Sister Cities International, and the Marshall Memorial Fellowship.
Eleanor prepared to be a teacher at first, but she discovered she was an educator of a different sort—not in the classroom but in the community. She worked for non-profits, co-founded EARTHWORK: Center for Food and Land in the San Francisco Bay Area, and served as Executive Director of Chattanooga Venture where she learned the value of civic engagement and community-wide visioning.
When Grace Divine Liu returned to the US with her son William in 1974, Eleanor immediately contacted her and eventually lived with Grace and William in Berkeley where Grace died of cancer in 1979. Later Eleanor and William co-authored the book about Grace's life.
Now Eleanor lives in Chattanooga, Tennessee, with her husband and family. She loves to arrange flowers, make quilts from fabric she has collected, and play games that make you laugh.
Agnes Scott College, Decatur, GA, B.A. in English literature, 1968
The University of Alabama, Tuscaloosa, Al, M.A. in American Studies, 1981
University of Tennessee at Chattanooga, EdD in Education with a focus on community learning and leadership, 2013
Grace in China: An American Woman Beyond the Great Wall, 1934-74, co-authored with William Liu (Black Belt Press, 2000)
Grace: An American Woman in China, 1934-74, co-authored with William Liu (Soho Press, 2003)
Zen 2: art and stories, self-published with artist Cynthia Stroud-Watson (2019)